The National Day of Mourning is a day of protest started by Native American activists in the 1970s to mourn, recognize, and educate the American people about the erasure of Native American history, culture, and lives that has been ongoing since Europeans settled in North America. It takes place on the same day as Thanksgiving.
To honor this day of mourning, please find resources from the Humanities department below of literature, graphic novels, plays, and poetry by and about Native Americans. Texts written by Native Americans have an asterisk next to the title. Click on the picture to check out the title.
Film
'Injuns!': Native Americans In The Movies by Edward Bucombe, Alanis Obomsawin: The Vision Of A Native Filmmaker byRandolph Lewis, Wiping The War Paint Off The Lens: Native American Film And Video by Beverly R. Singer
Graphic Novels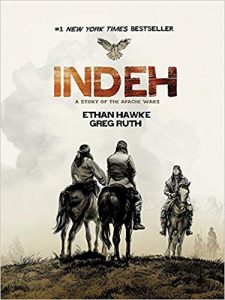 Indeh: A Story Of The Apache Wars by Ethan Hawke
Literature and Culture
*Native American Literature: A Very Short Introduction by Sean Kicummah Teuton (Cherokee), *Voice Of The Turtle: American Indian Literature by Paula Gunn Allen (Laguna Pueblo), Encyclopedia Of American Indian Literature edited by Jennifer McClinton-Temple and Alan Velie, Masterpieces Of American Indian Literature edited by Willis Goth Regier, Native American Fiction: A User's Manual edited by David Treuer (Ojibwe), Searching For Lost City: On The Trail Of America's Native Languages by Elizabeth Seay, *Sister Nations: Native American Women Writers On Community edited by Heid E. Erdrich (Ojibwe), Tracks That Speak: The Legacy Of Native American Words In North American Culture by Charles L. Cutler, Feathering Custer by W.S. Penn (Nez Perce), Native American Women's Writing C.1800-1924: An Anthology by Karen L Kilcup.
Memoir
*Crazy Brave: A Memoir by Joy Harjo (Muscogee), *The Woman Who Watches Over The World: A Native Memoir by Linda Hogan (Chickasaw)
Poetry
*New Poets Of Native Nations edited by Heid E. Erdrich, (Ojibwe), *Combing The Snakes From His Hair: Poems by James Thomas Stevens (Akwesasne Mohawk)
Religion
Dream Catchers: How Mainstream America Discovered Native Spirituality by Philip Jenkins, Gods Of War, Gods Of Peace: How The Meeting Of Native And Colonial Religions Shaped Early America by Russell Bourne
Theater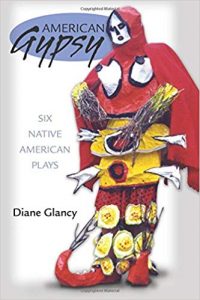 *American Gypsy : Six Native American Playsby Diane Glancey (Cherokee)