by, Donna Ballard/Adult Librarian
Edith Mayer Cord is a 92 year old Holocaust survivor who now lives in Maryland and she wrote a book: Finding Edith, Surviving the Holocaust in Plain Sight, and it is available in book format or as an eBook (through Hoopla) at the Pratt Library. Mrs. Cord's living with antisemitism and ethnic persecution is relatable to the issues still facing our world today. She is always willing to tell her story to all that want to hear about it in person, or by reading/listening to her book. She has talked at a couple of Pratt Library locations. As she talks about her story there are parts that still bring her to tears and cause a quiver in her voice, even though the events happened 76 years ago. Her book is a powerful addition to your reading list.
Her book, Finding Edith, Surviving the Holocaust in Plain Sight, is the story of religious and ethnic persecution of Jews, running from country to country to stay safe, wondering if her family was alright, where they were, and contemplating if life would ever return to normal. Edith was born in 1928 and grew up in Vienna, Austria, until the Nazis began grabbing power throughout different parts of Europe. Her father helped her family to escape Vienna and she moved several times, trying to hide in plain sight as she tried to go to school as someone else. During all that time of hiding herself, keeping her real feelings and thoughts to herself, Edith created within herself an incredible inner strength to stay strong and survive.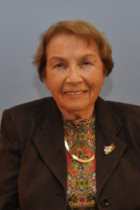 After the war, Edith struggled to regain a life, to get her education and to reunite with her family. Edith was determined to come to America but before she could she had to catch up on her studies. She not only had to get her education through high school, while learning a new language well enough to understand the school work, but work to keep food on the table and a roof over their heads. She struggled, but persevered and gained entrance into the University of Toulouse and graduated with her Baccalaureate in 1949 and a Degree in Letters in 1952.
Upon coming to America she was determined to make a life for herself. Edith came to America alone and her mother followed a year after her arrival in New York. Edith had developed a very strong sense of survival and even though she started out her life at the bottom she ended up a professor and later became a broker and financial advisor. Meeting her and hearing her words were an honor for me. Her book tells her story with brutal honest of how a person can survive horrors in your life, learn to deal with those horrors, and can live a successful and productive life.
There are many books and movies that you can find at the library via Hoopla, Libby, or through Sidewalk Service that relate to Mrs. Cord's persecution that will resonate today, such as: