by Tom Warner, Best & Next Department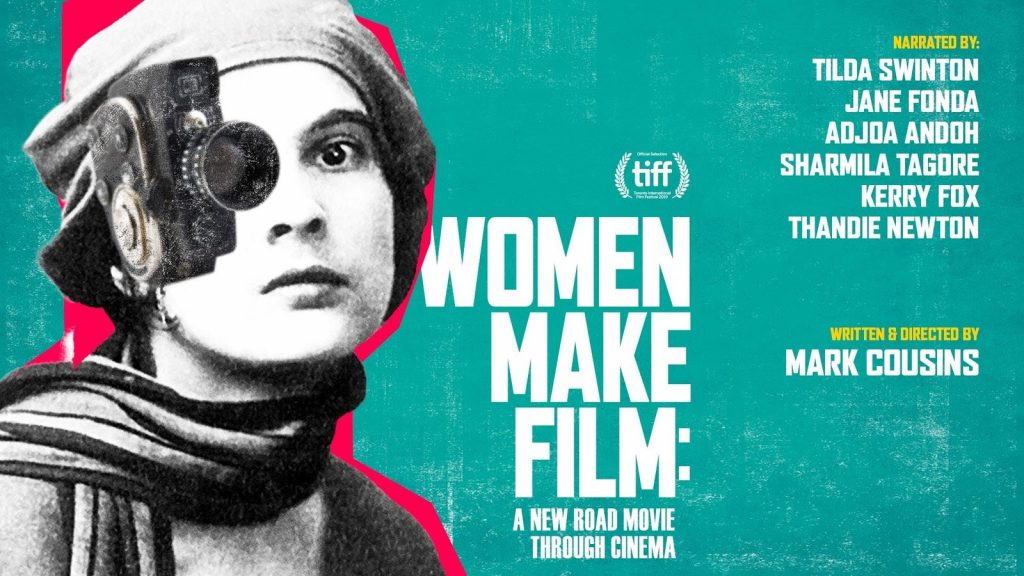 "This is a film school of sorts, in which all the teachers are women. An academy of Venus." – Women Make Film writer/director Mark Cousins.
Though more and more women are making movies today, the film industry has long been a boy's club practicing sexism by omission. This year may mark the first time in Academy Award history that two women – Chloe Zhao (Nomadland) and Emerald Fennell (Promising Young Woman) – are up for best director. But they represent only the sixth and seventh women ever nominated for the prize in the academy's 92-year history. Kathryn Bigelow remains the lone woman to have won a best director Oscar, for 2008's The Hurt Locker. Now, just in time for our March celebration of Women's History Month, comes a binge-worthy exploration of cinema history as seen through the lens of some of the world's greatest directors – all of them women – that you can watch for free on Kanopy using your library card.
Women Make Film: A New Road Movie Through Cinema, which premiered at the 2018 Venice Film Festival, is the latest critically-acclaimed documentary series from writer-director Mark Cousins, the respected film scholar who previously gave us the epic The Story of Film: An Odyssey (also available on Kanopy). Over the course of 14 one-hour episodes, Cousins delivers an alternative history of cinema that exposes us to over 700 film clips from 183 female directors. (No wonder the impressively edited film was 20 years in the making.) Using only women filmmakers as examples and organized like a curriculum with a visual textbook of 40 "chapters," Cousins' presents a "film school of sorts" that introduces viewers to various themes and techniques of cinema from around the world as seen through the "female gaze." Each episode stands alone and can either be viewed in order or sampled randomly. The emphasis is on inspiring viewers to explore previously unknown films and directors, regardless of how they watch.
The series is narrated by a number of well-known actresses, including Cousins' long-time collaborator Tilda Swinton (who also served as executive producer on the series), Jane Fonda, Debra Winger, Thandie Newton, Kerry Fox, Adjoa Andoh and Sharmila Tagore. And it features analysis from such noted film scholars as Cari Beauchamp, Claire Johntson and Lynda Miles.
The Toronto International Film Festival observed that "Women Make Film overturns our understanding of cinematic history" by forcing "a deeper reckoning for the professional barriers against women" while championing "the global breadth of female filmmakers who overcame those obstacles."
But perhaps Tilda Swinton sums up the importance of the series best when she advises viewers: "Feel free to be angry because some of these great films have been overlooked. But feel free to be delighted at the medium of film, and at the women on whose shoulders we stand."
More Kanopy movies about women:
Interested in learning more about women in film? Mary Mandy's Filming Desire: A Journey Through Women In Cinema (2000) makes a good companion piece to Mark Cousins' series. And Kanopy has hundreds more outstanding films about women's issues, including 137 from the world's leading distributor of independent films by and about women, Women Make Movies.