by Alex Lawson, Young Adult Librarian
On Monday March 6, Cliff Weaver, an instructor with Code in the Schools, came to the Roland Park Branch to teach seven teens how to build a computer game from scratch with code. In putting together the code to run the game, participants learned vocabulary, concepts, and skills that are useful for any computer programmer.
This class was great for teens who had never coded before. The task itself was simple, and Mr. Weaver was a good instructor. He asked questions like "who can tell me the story of this code?" that made the technical task easy to understand. By the end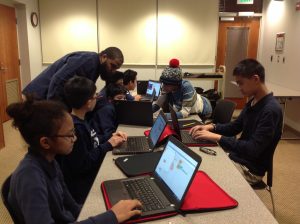 of the class, even the beginners had successfully created a video game.
The class also worked well for the teens with a lot of coding experience. At first they didn't think the project would be very challenging or interesting, but as the class wore on, those teens were able to engage with the project more deeply by asking questions about the reasoning behind the code that they created. At the end of the class, when the instructor asked everybody what they had learned, one of the more experienced teens admitted that "even when something seems simple, sometimes you still have to fix problems that you can't see at first."
This event was part of Teen Tech Week, an annual initiative from the Young Adult Library Services Association, focused on connecting teens with libraries and technology. To read more about this nationwide event, click here for our previous blog post.
Find more after school activities for teens #atthepratt.