by Alex Lawson, Young Adult Librarian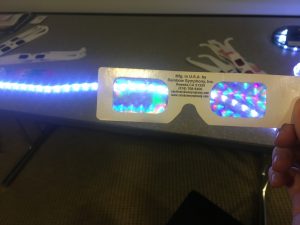 At the beginning of November John Maple, an educator from Baltimore's 
Space Telescope Science Institute
, came to the Roland Park Branch to host a Star Party. Mr. Maple talked to an audience of children, teenagers, and adults about STScI's work with the Hubble Telescope. He used LEDs and special glasses to show everybody how scientists use light and color to explore the universe.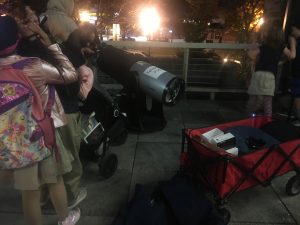 Then, after eating dinner, we all went up to the library's terrace to look at the sky with a telescope. It was a cloudy night, but everybody was excited to see the top of Roland Park Elementary/Middle School's bell tower through the telescope.
This program was one of many programs at Enoch Pratt ran as part of the
One Book Baltimore
initiative. Programs related to restoring peace, anti-violence and the One Book initiative is scheduled at various Pratt locations across the city. The grand finale will be a
conversation with author Nic Stone
, December 12, 2018, 6 p.m. at the Northwood Branch.