Here's another taste of what our Adult Summer Challenge participants have been reading:
Lucie F. on The Death of Mrs. Westaway by Ruth Ware: A chillingly atmospheric modern take on the classic Agatha Christie family-inheritance-murder plot. I loved that I was able to guess some of the mystery but as I puzzled over it, Ware stayed one step ahead of me!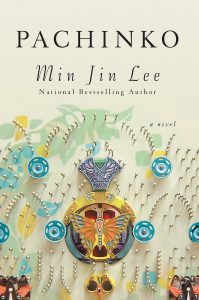 Laura R. on Pachinko by Min Jin Lee: Great family saga dealing with issues of immigration and discrimination is perfect for our times. I didn't know anything about the Korean/Japanese history so it was interesting history as well. A good read.
Sarah B. on The Thousandth Floor by Katharine McGee: The higher you rise, the farther you fall, and nowhere is this more true than in this book. Set in a vividly imagined 1000-floor skyscraper in the year 2118, it follows the lives of five teens from very different backgrounds and the ways their lives interlock, with exciting, romantic, surprising, and disastrous consequences. With a great prologue and a climax that left me scared about what a girl was wearing (the mark of ingenious writing), the story pulled me in and made me want to live among the well-developed and realistic characters. I look forward to reading the sequel and the release of book three next month!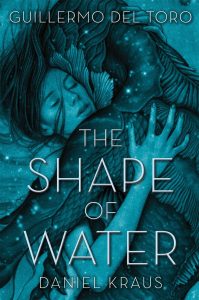 Aaron B. on The Shape of Water by Guillermo del Toro and and Daniel Kraus : A novelization of a film should expand on that film's concepts & themes. Kraus & del Toro achieved that with an equally moving & romantic companion piece to del Toro's Oscar-winning (& deserving) motion picture. A brilliant piece of romanticism.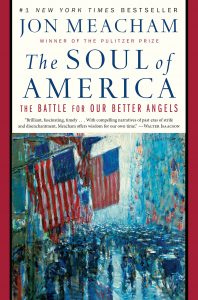 Julie J. on The Soul of America by Jon Meacham: Brilliant, historical review of our American history when citizens and presidents have come together, not without struggles, to fight and survive battles of integration, racism, immigration, hate, just as we still do present-day. Yet, just published in spring 2018, brings a timely reminder with calming wisdom, that Americans must keep the faith and hope in our heritage. Author is Pulitzer Prize-winning biographer and writes beautifully.
Nayantara B. on Persepolis by Marjane Satrapi: Persepolis is the autobiographical story of the author's coming of age in Iran after the Islamic Regime amidst the Iran-Iraq War. Though life in this time is very bleak, Satrapi's use of the graphic novel genre is irreverent and ironic. It provides a window into a very different world while still highlighting the universal heartaches of losing innocence.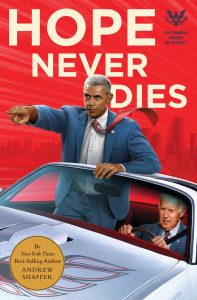 Howell B. on Hope Never Dies by Andrew Shaffer: This book with a preposterous premise—that an Amtrak conductor has died and Joe Biden and Barack Obama work together to figure out what happened—is funny and enjoyable. It will provoke many appreciative laughs.
Lucy J. on Death in Ecstasy by Ngaio Marsh: This Roderick Alleyn mystery surprised me a little with its relevance to today's issues—heroin use in the 1930s? Always interesting to read Kiwi grande dame Ngaio Marsh's books.
Join the fun! For a chance to win fabulous prizes in the Adult Summer Challenge, create a free Beanstack account and log each book you finish between June 13 and August 15.