by Julie Johnson, Roland Park Branch Manager
On Saturday June 23, former Roland Park resident Eleanor Herman returned to her childhood library for an intriguing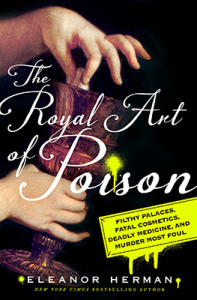 presentation on The Royal Art of Poison:  Fatal Cosmetics, Deadly Medicine, Filthy Palaces and Murder Most Foul.
Herman explained that actual poisoning may have been hard to detect because royals used arsenic, lead, gold, and mercury in their cosmetics (got to keep that dewy, soft complexion, you know), did NOT use their chamber pots, decorated with lead paint, and physicians were certain that mercury, blood-letting and dead birds split in half and placed on the head of the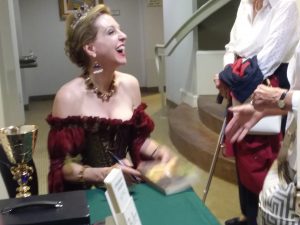 patient would save the royal life. All those fatal practices create a conundrum for investigators.
The program got fantastic reviews.  One attendee said, "This was a wonderful experience!"  Another called it "a fabulous program" while a third said it was "thoroughly enjoyable."  The forty-plus attendees were treated to photo-illustrated talk with Ms. Herman in Renaissance dress.
Fans lined up afterward to buy a signed copy at The Ivy Bookshop's table. Check out these short, fascinating videos from the book.
Join us for more Writers LIVE author programs #atthepratt. And of course, check out more titles by Eleanor Herman at the Pratt Library. Just click on the cover!