"This is a poem that will stop you on the street," said Little Patuxent Review editor Steven Leyva. He was talking about Kanak Gupta's poem, "Death in Dubai," which won the 2018 Enoch Pratt Free Library / Little Patuxent Review Poetry Contest and which begins, "I will die in Dubai / under the faint drizzle / of a foggy morning[…]." (Read the whole poem here.)
We asked Kanak to tell us how the poem happened. She wrote the following:
"Death in Dubai" (titled after the city I live in when I'm not at school in Baltimore) has two parts; they were, however, originally written as separate poems at different times, with very different writing styles. But it is the clear juxtaposition between the two—one claiming that "no one dies in Dubai" while the other talks about a death there—that connects one to the other, like the coexistent contradictions of life in a big city.
The first part, "Variations on Variations on a Text by Vallejo," began as an exercise in imitation in one of my writing classes. It seemed fitting to imitate Donald Justice's poem "Variations on a Text by Vallejo," which itself is an imitation of an older poem, "Black Stone on a White Stone" by César Vallejo. In both the poems the poets first predict their death and funeral in a city, then tell you why, and finally look upon their funerals, as they believe they will actually happen. Vallejo predicted that he would die in Paris (as it happens, he was right), Justice, in Miami (he, however, wasn't as accurate). Both the poets wrote about the cities they resided in, and it seemed obvious for me to do so too. When I started writing the poem, however, I simply couldn't picture myself dying in Dubai. In fact, I couldn't picture anyone dying there at all. Naturally, I proceeded to make myself do just that. As it turned out, the city's sanitary untouchability and barrenness were ripe ground for a poetic death.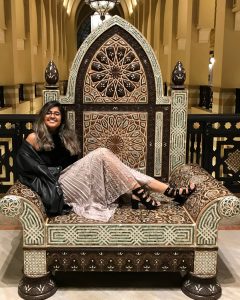 The summer after I wrote "Variations," I was back in Dubai, when the events of the second poem transpired. Perhaps it was the sheer irony of it all, or witnessing a real death in the city after having speculated about one with considerable difficulty, but there was something so resonant about these events, I couldn't stop thinking about them for days. They made me realize that it wasn't that no one died in Dubai, rather that so many did that they were just swept under the rug as numbers, their homogeneity giving the city a mask of perfection. More importantly though, they made it apparent to me the universality of the principle that the more lives there are in a place, the more trivial the value of every life becomes. So, while writing the "Variations on Variations on a Text by Vallejo" was something of a personal challenge, "Obituary" practically forced its way out of me.
Next Tuesday, August 21, at 6:30 p.m., Kanak will read her poem at a special celebration of the contest results. Please come!