Spring has sprung and it's time to start thinking about your outdoor space again. The type of garden you create will invite different birds and insects to your space. The library has books to assist your outdoor beautification, or you can attend a library program to inspire your gardening adventures.
We had a full house for Audubon's Wildlife Gardening Workshop at the Roland Park Branch. Participants explored strategies for creating gardens that feed birds and butterflies in Baltimore spaces, large and small. "We discussed specific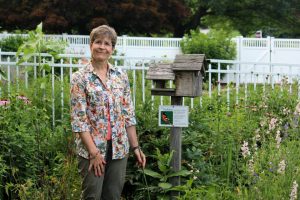 plants that offer seeds, berries, nectar, and insects to Baltimore birds," said presenter Susie Creamer.
Spring workshops also took place at the Patterson Park Branch and Canton Branch. One more "advanced" gardeners' workshop awaits you at the Hamilton Branch on April 12 at 5:30pm. Please register in advance: baltimore@audubon.org. More info here.