by Emily Sachs, Librarian, African American Department
July is my favorite month.  It's the heart of summer, which evokes childhood memories of family road trips to the beach, afternoons swimming and playing H-O-R-S-E at the park, and washing the day's sweaty adventures down with a slushie or a snowball. A powerful nostalgia surfaces when I recall these youthful experiences of relaxation and recreation, but a closer look at materials in the African American Department are a reminder of a related yet quite different chapter in history: the fight to end discrimination and segregation in recreation and leisure venues around the country. Of particular interest–and inspiration–are the local stories of community empowerment and acts of social protest that defined this period.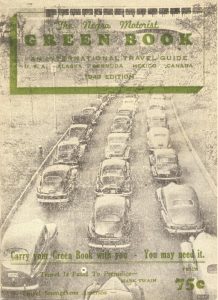 While many Americans take summer travel for granted, not all citizens enjoyed the luxury of the leisurely road trip punctuated by the occasional rest stop to stretch their legs or get a cold drink.  In order to avoid discrimination and sometimes violent harassment during the Jim Crow era, African Americans often consulted the Negro Motorist Green Book, a guidebook published between 1936-1966 that listed hotels, restaurants, gas stations, taverns, and other businesses that welcomed African American travelers. Flip through our copy of the guidebook to find the local establishments that opened their doors to African American travelers–many of them located on Baltimore's famed Pennsylvania Avenue.  
The integration of public parks was a watershed moment in history. At the library you can dig into our extensive digital archives of the Baltimore Afro-American and Baltimore Sun newspapers to uncover articles chronicling local protests, including a July 1948 interracial tennis match at Druid Hill Park that ended in 24 arrests (and an infamous steaming indictment of the state's segregation laws by Baltimore icon H.L. Mencken) and the 1956 integration of the city's public swimming pools.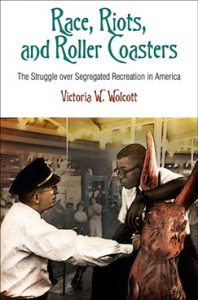 The Free State gets several nods in Victoria Wolcott's Race, Riots and Roller Coasters: the Struggle over Segregated Recreation in America. Wolcott's book traces the history of racial discrimination at amusement parks and other entertainment facilities around the nation and highlights acts of resistance. Locally this includes protests at Glen Echo Park in Montgomery County, where a group of Howard University students led a famous sit-in at the park's carousel and at Gwynn Oak Park in Baltimore County, where a series of demonstrations involving a number of Catholic, Protestant, and Jewish clergy culminated in the arrest of over 260 people in July 1963 and led to the park's integration that same year.    
In addition to protesting and picketing at segregated facilities, African Americans developed their own community spaces for recreation and leisure. In Patsy Mose Fletcher's Historically African American Leisure Destinations around Washington D.C., photos abound of African American beach communities in Maryland such as Highland, Sparrows, and Carr's beaches in Anne Arundel County, and smaller resorts such as Eagle Harbor in Prince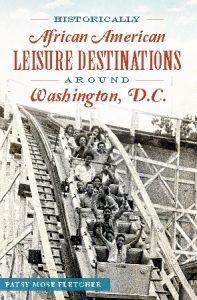 George's County and Seagull Beach in Calvert County. The largest of these venues hosted shows by famous musicians touring the "Chitlin Circuit," the colloquial name given to the collection of performance venues considered safe for traveling African American entertainers. Veteran Pratt library employee Doris Thompson remembers visiting Carr's Beach in the1960's to see Jackie Wilson, Diana Washington, and James Brown. "When the stage shows came on in the evening, they'd kick us kids out back to the playground, but we'd just jump in the water, circle around behind the adults and find our way back in. Those were good times," reminisces Thompson. Thumb through Fletcher's book to see pictures of  pleasure seekers, from early residents who boarded steamships in their summer finery to visit African American resorts along the Potomac to swimsuit clad citizens parading, picnicking and partying at black-owned beachfront communities on the Chesapeake Bay.
To learn more about the history of African American travel, recreation, and leisure, or a variety of other topics, stop by the African American Department on the first floor of the Enoch Pratt Central Library Annex to investigate the Eddie and Sylvia Brown African American Collection. Sandwich it in between a trip to the pool and your local snowball stand, and call it a perfect summer day.