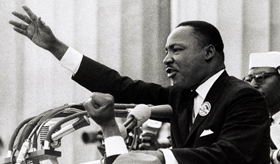 Historical videos of Dr. King's most memorable moments
As we celebrate the life and legacy of Dr. Martin Luther King, the Pratt Library can help you learn more about the civil rights leader.  Our Access Video service allows you to view historical videos of Dr. King. From commentary, to news conferences, speeches, biographies and interviews, the Access Video collection lets you to relive some of the Dr. King's most notable moments.
Martin's Big Words uses quotes from some of Dr. King's most memorable speeches and vibrant watercolor paintings to bring Dr. King's words to life.
All of that and more now available at Access Video On Demand.