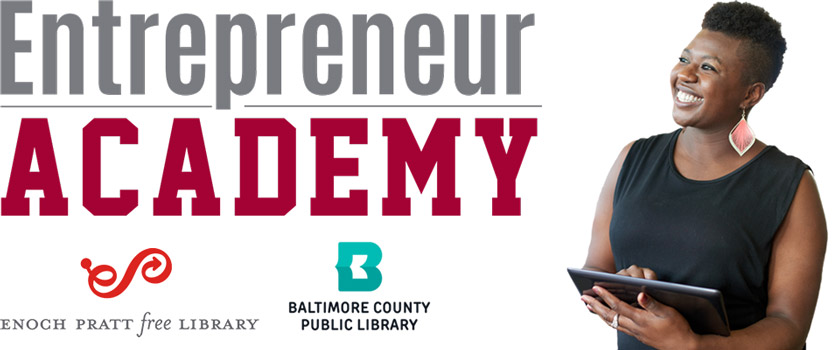 The Enoch Pratt Free Library and Baltimore County Public Library are pleased to offer Entrepreneur Academy. The innovative initiative is designed to serve the Baltimore region by providing access to training for small business entrepreneurs and solopreneurs.
This 9-week workshop will have two cohorts running from March 18 – May 4. One will be taught at the Pratt Library Edmondson Ave. Branch. The other will take place at BCPL's Woodlawn Branch.
Participants are asked to attend all nine weeks of the workshop. Space is limited. Register here.
Entrepreneur Academy Kickoff!
Woodlawn Branch of the Baltimore County Public Library
March 9, 9:30a –11:30a
Learn:
Marketing Research and Business Strategies
Financing Options
Financial Recordkeeping and Taxes
Developing Your Business Plan
Take advantage of:
Legal, Financial, Insurance, and Accounting Advisors
Networking Opportunities
Extensive Library and Business Resources

Classes include:
Market Research and Business Strategies: Part I and II
Ask the Experts Panel
Business Finances, Taxes & Recordkeeping
Marketing Your Business
Developing Your Business Plan
Side Hustle Showdown
Entrepreneur Academy is a partnership between the Enoch Pratt Free Library and Baltimore County Public Library. It's made possible in part by the Urban Libraries Council.