The Pratt Library is excited to be a part of a new initiative called One Book Baltimore.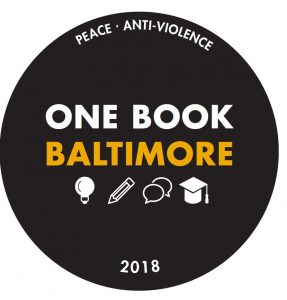 One Book Baltimore is a collaboration among several local organizations to provide opportunities for Baltimore City 7th and 8th graders, their families, and community members to connect through literature by reading the same book. Discussions will be held across the city this fall to spark conversations focused on peace and how to promote change in our community.
The Pratt will host a series of programs related to One Book Baltimore in October and November. It all culminates in special programming Nov. 3 & 4 on Ceasefire weekend in every Pratt location.
2018 Selection: Dear Martin by Nic Stone
Justyce McAllister is a teen who looks to the teachings of Dr. Martin Luther King Jr.  He writes a journal to Dr. King to find out if the civil rights leaders' teachings hold up in a modern society.
"Raw, captivating, and undeniably real, Nic Stone joins industry giants Jason Reynolds and Walter Dean Myers as she boldly tackles American race relations in this stunning New York Times bestselling debut, a William C. Morris Award Finalist."
Reserve your copy of Dear Martin at the Pratt Library today. 
One Book Baltimore is a partnership between the Enoch Pratt Free Library, Baltimore City Public Schools, Baltimore Ceasefire, Maryland Humanities, Baltimore Office of Promotion & the Arts, Maryland Book Bank, First Book, CityLit Project, the T. Rowe Price Foundation, and WBAL-TV.