On Saturday May 12, Roland Park Elementary/Middle School hosted its 90th Annual MayMart Celebration. The sunny weather was perfect for the event that included bounce houses, carnival games, good food, and great performances from student musical and dance groups.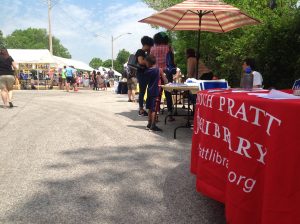 Teen Librarian Alex Lawson talked about Pratt Library's upcoming programs and signed people up for library cards at the event. Information about Summer Challenge (for all ages, starting June 13th!) was popular with parents who want to help their children avoid the summer slide. Adults were interested to hear about the Roland Park Branch's summer
film
series, and a lot of students were excited to see their librarian at school on a Saturday.