On Saturday February 17, six teens came to the Roland Park Branch to look for birds. They were participating in the Great Backyard Bird Count—an annual event coordinated by the Audubon Society and Cornell University that invites people from around the world to report which birds are in their immediate area on a single weekend. Professional scientists then use those reports to track things like migration patterns and changes in bird populations.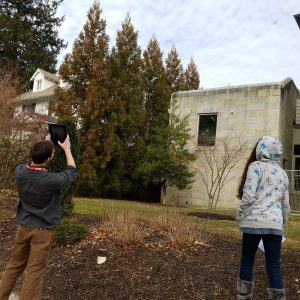 Roland Park's teen 'Citizen Scientists' saw thirty-nine birds over the course of ninety minutes. They also used field guides and an app on the Branch's iPad to identify six different bird species. Afterwards, Teen Librarian Alex Lawson submitted those observations to Cornell's online database so that they'll be available for use by birders and scientists.
The teens enjoyed bird-watching—they were always competing to see who could spot a bird first. They were also excited to know that the work they were doing was part of a larger project run by professional scientists. That, plus some hot chocolate, made the time fly by on a cold morning.
Check out more teen programming #atthepratt and sign up for our email list to find out about programming for all ages.