This April, join in the fun of Imagination Celebration with the Pratt Library! We will be celebrating children's creativity and imagination with the book What Will You Be? by Yamile Saied Méndez.
What Will You Be? follows a young girl dreams about all the endless possibilities, sparking a sense of wonder, curiosity, and growth. With her abuela's loving guidance, she learns her potential is limitless. Books, eBooks, and a Spanish-language edition, ¿Qué Serás?, is also available.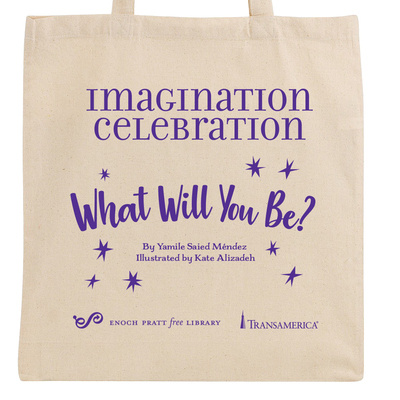 Throughout the month of April, Imagination Kits are available at Pratt Library locations. Imagination Kits are filled with activities and crafts for preschoolers that encourage creativity and imagination. Imagination Kits are available on a first come, first served basis, while supplies last.
Don't forget to add the Imagination Celebration events to your calendar! On Thursday, April 7th, Author Yamile Saied Méndez will join us for Kids Writers LIVE! Following a virtual reading, she will take questions from the audience. Find out about more Imagination Celebration events here.