By Tiffany James, Program and Social Media Associate
Want to know what people are watching on the Pratt Facebook page? Look no further! Check out the Top 5 Most-Watched Pratt Videos of July 2020.
---
#1: Pratt Virtual Storytime with Mr. Matt
Get ready for Pratt Virtual Storytime Live! Groove and sing along with Pratt Librarian Matt, while he plays children's rhymes on his guitar. Also, enjoy a read aloud of "I Know a Lot of Things" by Ann & Paul Rand, read with permission from Chronicle Books. You can join the fun Mondays and Thursdays at 11 AM.
---
#2: Tracing Your Family History Using Maryland Property Research
Every building has history. In this video, Julie Saylor, from the Maryland Department, shows how to use Maryland land records to conduct your own property research. Whether you are looking for the history of a house or conducting genealogical research, you won't want to miss this informative recording.
---
#3: Maryland Cooking: Historic Cookbooks of the Old Line State
Fun Fact: Did you know the oldest cookbook in the Pratt's Special Collections Department dates back to the nineteenth century? Learn about some traditional Maryland recipes and the factors that classify cookbooks as historical documents.
---
#4: Astroblak and The Golden Record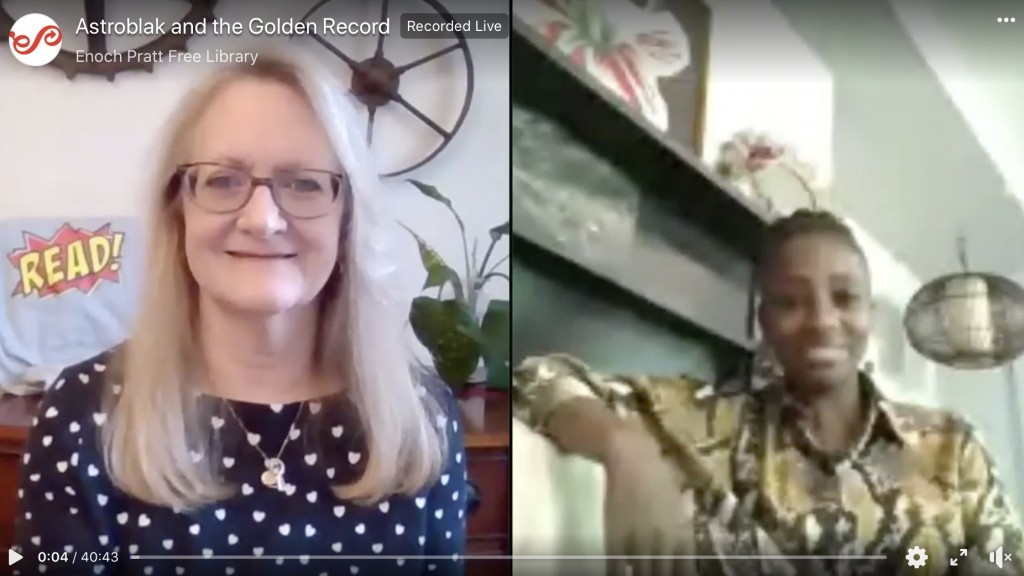 Embark on an interstellar adventure during this third and final episode of Astroblak and The Golden Record. Along the way, you'll learn deep listening skills as well as how to appreciate album art and inner liner notes, adding value to the vinyl experience.
---
#5: Tuesdays at Two: Never Judge a Queen by the Cover
Enjoy the musical talents of Evon Michelle, Baltimore's 2020 Drag Performer of the Year, and friends as they cover some of the music industry's beloved divas and musical artists. Be sure to join us Tuesdays at 2PM for a new live musical performance.
---
For more videos like this, check out our upcoming virtual programs on the events page of our website. Follow us on Facebook, Twitter, and Instagram.