by Sylvie Merlier-Rowen, Children's Librarian
Prairie Lotus is Linda Sue Park's newest historical novel. I read it soon after I read A Place to Belong by Cynthia Kadohata, and I could not help but notice a few similarities between the two novels. Even though we find ourselves in a very different environment in Prairie Lotus, Hanna, the main character, has a lot in common with Hanako.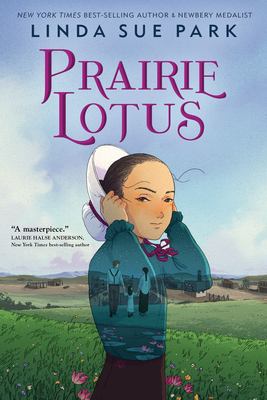 After losing her Chinese mother, Hanna's father wants to start a new life away from California that has been Hanna's only home. Prairie Lotus starts with Hanna and her father on the way to their final destination, just like Hanako is on her way to Japan at the beginning of A Place to Belong. The two girls are both going to an unfamiliar place that should become their new home. They both are scared and excited at the same time. They both have suffered from prejudices, and they both lost someone or something dear to them.
Yet, Hanna's environment is so different from Hanako's. Hanna's story is set in the year 1880 in Dakota Territory. She and her father are going to a town called LaForge, where everything is new, and everyone has great hopes for the future. Hanna loves to sew and she dreams of designing dresses. Her immediate goal though is to finish high school and get her diploma. That should be easy to achieve, but Hanna knows all too well that being half-Chinese could pose a problem. Prejudice is at the heart of Prairie Lotus. Hanna and her father have been on the road for three years unable to settle anywhere because of xenophobia. They have high hopes in LaForge because Hanna's father has a friend who lives there. His name is Mr. Harris, and he is the town's Justice of the Peace.
Shortly after their arrival in LaForge, Mr. Harris gives permission to Hanna to attend school. The first day she goes to school, she keeps her hat on to hide her face, but she decides to take it off on the second day. By evening, the people of LaForge are up in arms against Hanna going to school with their children. Through them, Linda Sue Park depicts the most primal form of prejudice, the one that is born out of ignorance, fear, and insecurity. This is the same hurtful prejudice they have against the Native Americans from whom they stole the land. It is fitting that the author includes a few Sioux women who Hanna befriends. The group of Sioux women and children are dignified by the author's writing. She also contrasts Hanna's shy friendliness and interest in them with the LaForge people's hostility and lack of respect.
Hanna is not alone in this battle against prejudice. She has a few adult allies and one or two school friends, but is that enough for her father and her to defeat the demons of prejudice, and settle in LaForge?