Gotham. Batman. Joker. Each one of these famous names invoke meaning. Gotham, the city of monsters and madness; Batman, the dark knight and defender of Gotham; and Joker, the infamous crime lord who revels in madness with a smile. Then there is Harley. Harley Quinn, is the harlequin or joker-esque equivalent to the crowned prince of crime. Infamously, Harley is known as the right-hand woman of the Joker, but who was she before she painted her face with a smile?
In this origin story, we meet Harleen Quinzel, a struggling young psychiatrist who is determined to prove that her revolutionary rehabilitation theory can help save the citizens of Gotham from its haunting madness. To test her theory, she is given the opportunity to conduct her research at Arkham Asylum. Her study eventually leads to her fateful encounter with the Joker.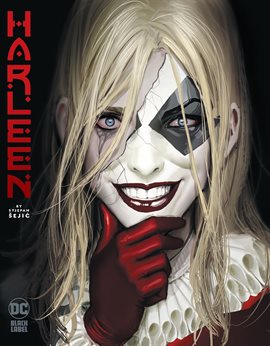 This story is fascinating in that you get an origin for Harley Quinn through the eyes of her alter-ego, Harleen Quinzel. Although this is the same woman, Harleen and Harley come across as completely different . The writing is not too crazy and over the top, as Harley Quinn can be portrayed, but comes off as sophisticated. We also get the opportunity to see the city of Gotham through Harleen's perspective in this unorthodox romance novel. The script is also very intriguing in that it does a great job of diving into the study of criminal psychology.
What I love most about this is that it's not just an origin story for Harley Quinn. This novel highlights other very prominent Gotham characters and Harleen's encounters and decisions serve as a catalyst for their own. Who could they be? Well, you have to read it to find out!
The art and story were both by Stjepan Sejic. This is great because at times you may get a really great team of writers and illustrators who collaborate on a graphic novel series (e.g. Fiona Staples and Brian K. Vaughan for Saga, Image), but this can possibly become detrimental to the story if the great minds don't think alike . However, there is nothing more satisfying than the storyteller being able to appropriately illustrate how they'd like to tell their tale. I also enjoy how the artwork is used to capture the story. You can see how Stjepan plays with the color scheme, inspired by that of Harley Quinn's costume, by giving hints of red and black on each page. The artwork is also quite dynamic in how it helps express character thoughts, feelings, memories and actions.
Novel Recommendations: More of Stjepan's work as well as Joker or Harley Quinn related comics and novels on Hoopla, RBDigital, and Overdrive.
Stay tuned for the next focus of Comics 411 where there will be a readers' advisory for DC Black Label's Luthor.
Other cool recommendations for adult graphic novels- Graphics Galore: Graphic Novel Recommendations by Deborah on the Enoch Pratt Free Library's Facebook page.

Don't forget Enoch Pratt's Summer Challenge is also for adults! (Summer Challenge info for adults) Imagine Your Story!