by Beth Emmerling, Librarian, Fiction
Are you thinking of a light-hearted mystery, with people you would like to be your neighbors? Are you thinking it might be fun to make a new recipe for snacks or dinner? You can have your book and recipes too. These books are available for e-books in Maryland's Overdrive.
Diane Mott Davidson brings us a series featuring Goldy Bear, a caterer who always seems to be involved in solving homicides. In Killer Pancakes, Goldy is catering a cosmetic company's company banquet when a murder occurs. Goldy juggles the banquet and sleuthing for some fun moments. The mystery is solved, as are all of Davidson's mysteries. Included in this book are low-fat recipes for Fettuccine Alfredo with Asparagus and a decadent Fudge Souffle. Yum.
In Dying for Chocolate, Goldy leaves her abusive husband and works as a caterer at a country club. A handsome psychiatrist, that Goldy has been dating, crashes his car into an oncoming car and dies. Convinced this was not accidental, she shifts into detective mode to solve this crime. This book has many high calorie recipes including one for Scouts Brownies. The recipe is found below.
Having met Goldy and visited her world you will be hungry for more books and Davidson is kind enough to serve them up. If you need more recipes try Goldy's Kitchen Cookbook.
Scouts Brownies
1 cup (2 sticks) unsalted butter
3 ½ ounces best-quality unsweetened chocolate (recommended brands: Callebaut or Valrhona – available at Williams-Sonoma)
3 tablespoons dark European-style unsweetened cocoa (recommended brand: Hershey's Premium European-Style)
1 ½ cups all-purpose flour
½ teaspoon baking powder
1 teaspoon salt
4 eggs
2 cups sugar
1 teaspoon vanilla extrac
1 cup chocolate chips (recommended brand: Mrs. Field's)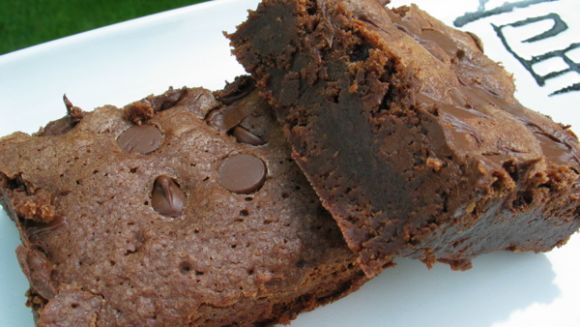 Preheat oven to 350 degrees. Melt butter with unsweetened chocolate in top of double boiler, stirring occasionally. Set aside to cool. Sift together cocoa, flour, baking powder, and salt. Beat eggs until creamy, then gradually add sugar, beating constantly. Add vanilla and cooled chocolate-butter mixture. Stir in dry ingredients just until combined. Spread batter in buttered 9 by 13 inch pan. Sprinkle chips over surface. Bake for 30 to 35 minutes, or until center no longer jiggles when shaken. Cool, then cut into 32 pieces.
Makes 32 brownies