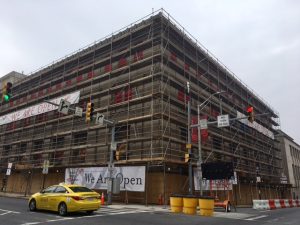 Get to know the Central Library of the Enoch Pratt Free Library, Maryland State Library Resource Center, with this brief audio tour.
Listeners will enjoy a helpful overview of the Central Library's most prominent departments and collections as well as additional background about the building's architecture and history.
Thanks to a capital grant from the State of Maryland as well as matching funds from the City of Baltimore and the Library's Board of Trustees and Directors, the Central Library is currently undergoing a full-scale historic restoration and renovation.
This audio tour provides both information on the current state of the building and a preview of what changes are to come. The tour will be updated throughout the restoration process, which is scheduled to be complete in 2019.